for the Environment & sustainability
At Orbital Travel we recognise the importance of protecting the environment. As a responsible company we are committed to supporting environmental and waste management schemes, as well as ensuring that our holidays help to promote inter-cultural understanding and environmental and ecological responsibility.
Also, we run our business in a manner that, wherever possible, protects and sustains natural resources and reduces waste. And, importantly, we play an active role in promoting the wellbeing of the communities in which we operate:
We ensure that the people who work for us in the UK and overseas are treated fairly and are paid a fair wage.
We ensure that local people benefit economically from tourism by using local guides, eating out in local restaurants and benefiting the local communities.
We support local charities.
We encourage people to learn about and respect the customs and cultures of the countries that they visit.
we are proud to support...
At Orbital Travel, we believe that we all have the power to make good things happen.
We want to use our success as a catalyst for making real change locally, nationally and
internationally, especially so within the overseas communities where we operate.
We support a number of charities that are close to our hearts, whose details can be found below.
Luxor - Children's Orphanage
Orbital Travel is proud to support the Coptic Orthodox Holy Bible Friends and its Orphanage House in Luxor. Established in 1934, with 9 volunteers, the orphanage looks after 30 boys from the age of 5 until graduation. The Orphanage is working to give these children a decent start in life by providing a caring home and schooling, as well as actively organising cultural and social activities for the boys including excursions, trips in the summer and a summer club. They are hoping to increase the intake of children to 50. Their only source of income is through gifts and donations.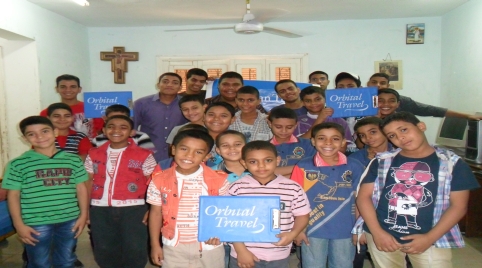 Smile Train
Smile Train is an international children's charity that supports 100%-free cleft repair surgery and comprehensive cleft care for children globally. Many children with clefts around the world live in isolation, but more importantly, have difficulty eating, breathing, hearing, and speaking. Cleft repair surgery is safe, and the transformation is immediate. The charity's sustainable model provides training, funding, and resources to empower local medical professionals in 90+ countries to provide 100 %-free cleft repair surgery and comprehensive cleft care in their own communities.
CRISIS
Crisis is the national charity for homeless people. It works directly with thousands of homeless people every year, providing one to one support, advice and courses for homeless people in 12 areas across England, Scotland and Wales. How it helps depends on each individual's needs and situation. It could be with finding a home and settling in, getting new skills and finding a job, or help with their health and wellbeing. The charity uses research to find out how best to improve its services and find wider solutions to homelessness.
Children with Cancer UK
Children with Cancer UK is the nation's leading children's charity dedicated to the fight against childhood cancer. Its mission is to improve survival rates and the quality of survival in young cancer patients, and to find ways to prevent cancer in the future. It funds groundbreaking research to help children with cancer, helps to raise awareness to inspire others to help, and also supports families through a range of welfare projects. The charity is determined that one day every child will ring the End of Treatment Bell that means they have finished their cancer treatment.
Opening hours
Monday to Thursday: 9am - 5pm
Friday: 9am - 4pm